Did you ever notice how ugly and boring glucose meter cases are? Since it's something you use multiple times each day you'd think they make it cute, but no. Same old black or grey and just so plain. Thankfully there are companies like Myabetic who make cute cases and even bags. Let me show you one of their products: the James Compact Case.
When you're diagnosed with diabetes one of the first things you get is a glucose meter. There are so many differents ones on the market and some are even colorful. But they all have one thing in common: Every single one comes in a plain black (sometimes grey) case. They are not pretty to look at so you try to hide them. That's where the problem starts. Like most women on this planet I carry around a purse. Wait a second, let me rephrase that. I carry around half of my household in my purse. I don't wanna know how many minutes were spent looking for that little black case with my meter in it. Early on in my diabetic life I used the case the meter came in. Later I switched to a little orange Longchamp case. I loved it. My meter, test strips, lancing device and Insulin pens fit in it.
My old case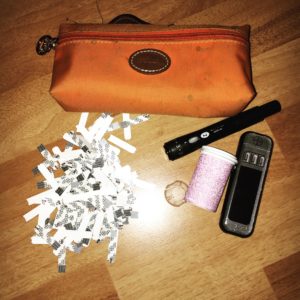 Since it was orange I could easily find it in my purse and I had that thing for more than 8 years so naturally it started to wear down. You can see it on the picture above. Blood splatters everywhere on the outside and especially on the inside. I used to just throw my used test stripes in there until it overflowed and I cleaned it out which is perfectly shown as well…
Searching for a new case
Around August last year I started looking around for a new case. I've met Maren from Mysugarcase at a brunch last spring and she makes the cutest cases. Unfortunately she only had cases for pen users at that time which were too big for my needs ( I saw that she offers a smaller one now, have to check that one out next).
Being active on social media I heard about Myabetic. I stared following them and quickly saw why they were so popular. They have different sizes of cases and they are colorful! They do have black and grey options if you like it muted but they offer cases in red, blue, pink or lavender. I scrolled through their website and used their product finder. Such a cool tool. You can click what you want to carry with you and it gives you different options from their site. I chose my meter, test strips, lancing device and glucose tabs. It looked like the James Compact Case would be the best fit for me. I chose the color for that case and also saw a handbag that I liked and put in on my christmas wishlist. Let me tell you, Santa came through 😉 Or rather my two sisters and one of my sisters boyfriend. I got the James Compact Case in lavender and the Cherise Handbag in cognac.
Let me show you the James Compact Case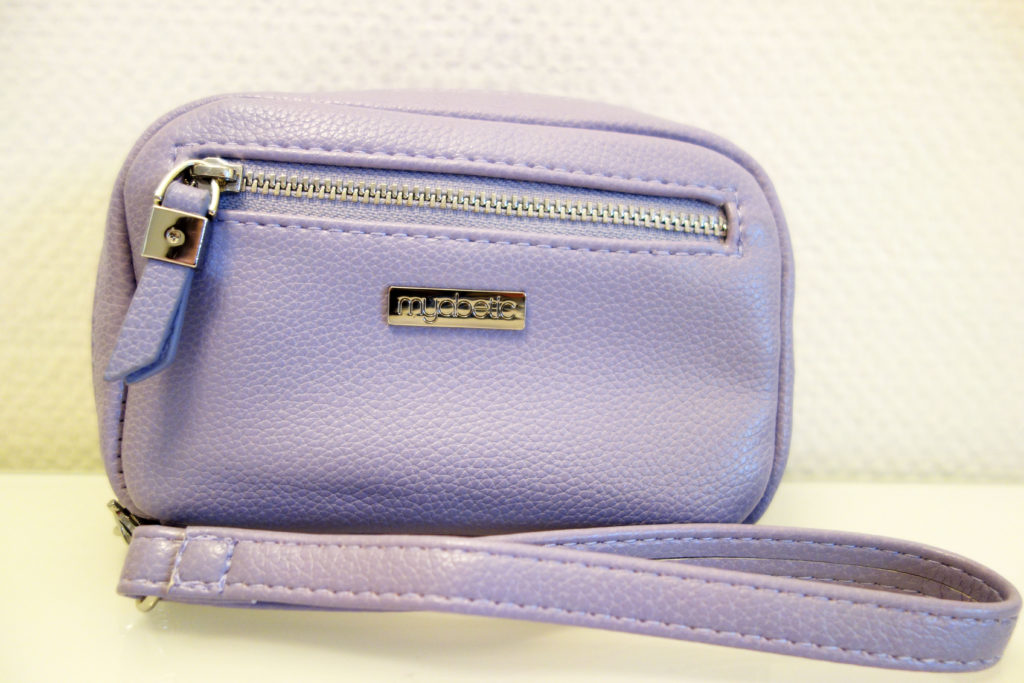 Isn't it soooo pretty. It holds everything I need on a daily basis. I don't carry my pump supplies with me everywhere I go. I have a bag with supplies at work which I showed here and the rest is at home.
To give you and idea of the size I put it next to my I-phone 6S.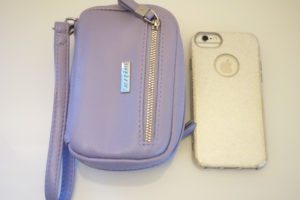 The cool thing about the james case is that it has an insulated pocket on one side so you could store your insulin in there. At the moment I don't have anything in that pocket though.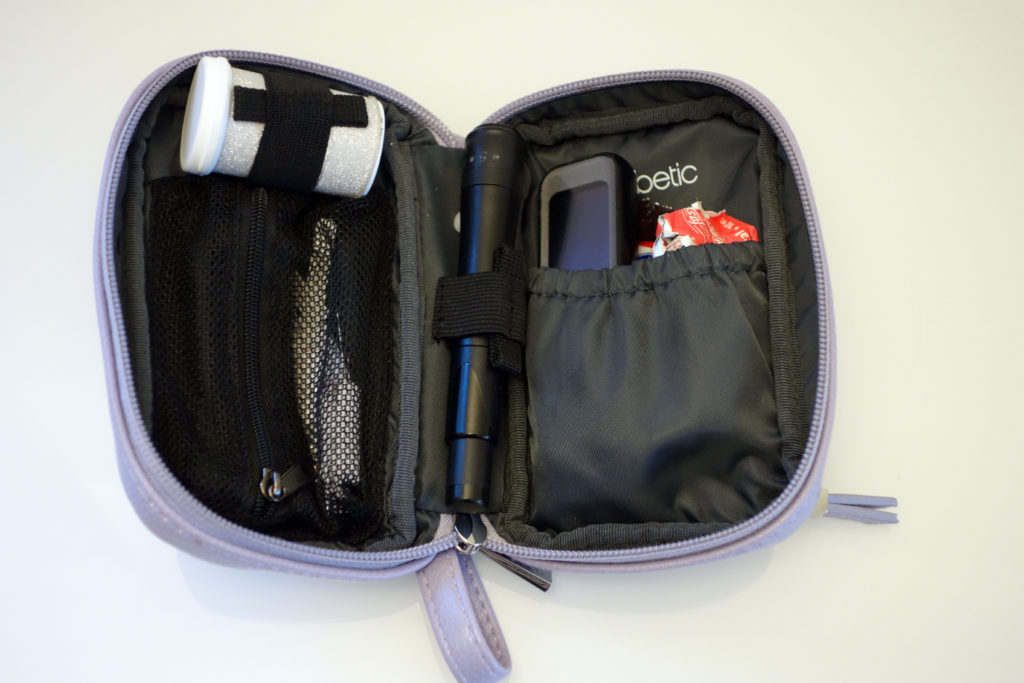 When you open it up you have different pouches and straps. As you can see I keep my test strips on the left side. I never take the container out, just open it up. The used strips go in the mesh pouch. My lancing device is in the middle and my meter, glucose tabs and a little snack are on the right side. The only thing I wish was different about this bag is the mesh pouch. They have removable pouches in other cases and I wish this one was removale as well. Would make cleaning out the used test strips a little easier. In the other outer pocket I store some cash.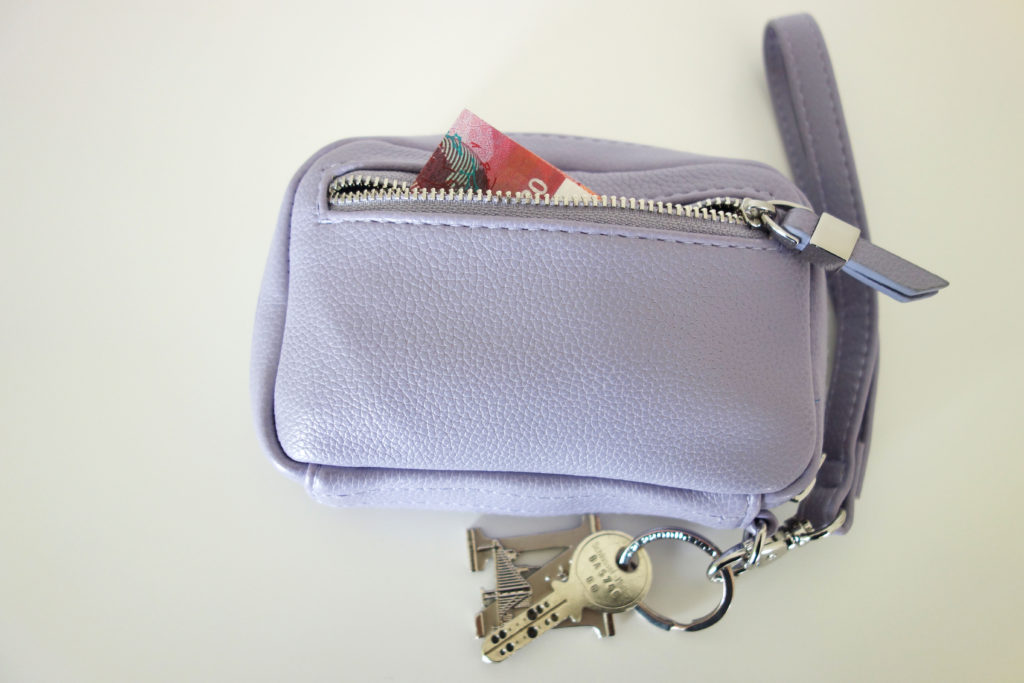 The James Compact Case comes with an optional wrist strap, I attached mine. If I'm going out for a walk the only things I take with me are my phone and my james case. I attach my house key to the wrist strap and am good to go.
When I go to work I just toss it in my bag and it's easy to find because of its color. I'm so glad that I got this case, I absolutely love it and would recommend it to anyone who is on the market for a small case.
Where to get it?
If your interested in buying the case, check out this link. It's $42 plus shipping.
If you want to see more pictures of the case I highly suggest you check out Paloma from GlitterGlucose. She has so many beautiful pictures with the James Case, you can find them here. Paloma even has a coupon code on her website, which gives you 15% off at Myabetic.
Happy Shopping everyone.