If you're on a pump you're literally running on batteries. But which ones are the best? How long do they last? I made the test to see which battery lasts the longest in my insulin pump.
How it all started
When I got the Minimed 640g Pump in August 2015 my diabetes consultat adviced me to buy lithium batteries. She said they last longer than the normal ones. So the people pleaser that I am I went and got lithium batteries for my insulin pump. Low and behold they are a alot more expensive than normal batteries. For 4 normal batteries you pay 7.95 Sfr and for 4 lithium batteries you pay 14.90 Sfr (Note: Dollar to Sfr conversion is about 1:1). Around Christmas you get the normal batteries even cheaper (up to 50% off). I've never seen a sale for the lithium ones though.
So when I bought some normal batteries for my christmas decorations I started to wonder if they really are that much worse for pump users. Since I couldn't for the life of me remember how long a lithium battery usually lasts in my pump I decided to test it.
Situation
I have the pump with the cgm. Sundays are sensor change days, the only time the cgm doesn't run is between Saturday afternoon and Sunday afternoon. I'm sure if you're using the pump without the cgm, all batteries will last longer. Another thing: I change my battery pretty much as soon as the pump first allerts me. I suppose you could leave it in longer but I don't like living on the edge 😉
Which batteries did I test?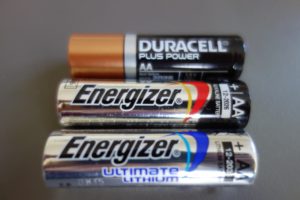 These are the batteries that I tested: Duracell plus power, Energizer and Energizer ultimate lithium
First up for the test: A normal, brandname battery
Duracell plus power (you know the one with the bunny commercial).
Price: 7.95 Sfr for 4 Batteries. 1 Battery = 1.99 Sfr.
Duration: 14 days
Test Object Number 2: Supermarket battery
Energizer max.
Price: 7.95 Sfr for 4 Batteries. 1 Battery = 1.99 Sfr.
Duration: 13 days
And last but not least: Lithium battery, Supermarket brand
Energizer ultimate lithium.
Price: 14.90 Sfr for 4 Batteries. 1 Battery = 3.725 Sfr. (so that's double the price of the other two)
Duration: 14 days
So what are the final results?
I have to say I'm surprised. As you can see, there really isn't that much of a difference. I really thought the lithium ones would last longer but they didn't. Good for me, this means that I can buy normal batteries when they're on sale, saving some money in the process.
P.S.: Wouldn't it be nice to have a pump that you can charge like a phone? Imagine all the money we'd be saving. Plus it'd be better for the environment.